1 Day Speed boat to Luang Prabang.
08.30 P.M. – 09.00 PM: Pick up from the accommodation by air-conditioned van .
10.00 P.M.: Departure from Chiang mai.
05.00 A.M.: Arrive in Chiang khong and relax at Boom guesthouse about 2-3 hours (no charge for room). Breakfast will be served.
08.00 A.M. : Departure from Chiang Khong and cross the border to Huay xai for applying visa .Then take speed boat 6 hours to Luangprabang.
To visit Luang Prabang the world heritage in Laos. There are many alternatives to go by land by air or to go by boat trip along th great Mae Khong River. If you've got time and not in a hurry and you want to experience and absorb the scenery, life style of the people who live along the Mae Khong River. This is another travel trip to Luang Prabang which is recommended.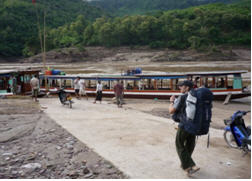 D1: Chiangmai – Chiang Khong
12.30 PM – Departure from Chiangmai by mini bus (A/C) Take about 5 hours.
18.00 PM – Arrive at Chiang Khong and Overnight at PJ Guest house. (Included)
D2: Chiang khong – Pak Beng Village (Laos)
07.30 AM – Breakfast at PJ Guest house.
08.30 AM – Transfer to the border and take a boat crossing to Huay Xai / Laos.
10.00 AM – Then take a slow boat for 6 hours to Pak Beng Village (Incl. Lunch box)
17.00 PM – Arrive at Pak Beng Village and overnight here (Your own account)
D3: Pak Beng Village – Luang Prabang.
09.00 AM – Leaving from Pak Beng Village to Luang Prabang for 6 hours. (Not Incl. Lunch)
17.00 PM – Arrive at Luang Prabang Pier.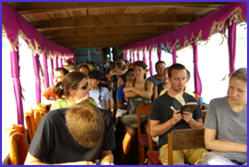 Price: 1,850 THB
Remark
To apply for Loas visa required: 2 photos, Passport
Package slow boat included; one night at PJ guest house in Chiang Khong, breakfast and dinner, mini bus, boat ticket, lunch box