Planning a Trip
ArrivingBy Plane — When planning your trip, keep in mind that Chiang Mai has international links with major cities throughout the region. Lao Airlines (tel. 05322-3401; www.laoairlines.com) connects Chiang Mai to Vientiane and Luang Prabang in Laos four times each week. Air Mandalay (tel. 05381-8049; www.airmandalay.com) has limited flights to Yangon and Mandalay, in Myanmar (Burma). Silk Air (tel. 05390-4985; www.silkair.com), the regional arm of Singapore Airlines, connects Singapore with direct service three times a week. Budget option Tiger Airways (tel. 02351-8333; www.tigerairways.com) connects Chiang Mai to Singapore four times a week. Thai Airways has direct services from Kunming in Yunnan, Southern China. For international reservations in Chiang Mai, call tel. 05392-0999.
Domestically, Thai Airways (240 Phra Pokklao Rd.; tel. 05392-0999; www.thaiair.com) flies from Bangkok to Chiang Mai nine times daily (trip time: 1 hr. 10 min.). There's a direct flight from Chiang Mai to Phuket daily (note the return sector is not direct). The daily 35-minute hop is also the fastest way to get out to Mae Hong Son. Bangkok Airways has an office at the airport in Chiang Mai (tel. 05328-1519, or 02229-3434 in Bangkok; www.bangkokair.com) and flies at least twice daily from Bangkok.
For rock-bottom prices, check with new budget carriers such as Air Asia (tel. 05392-2170; www.airasia.com); they fly from Bangkok to Chiang Mai for as little as 800B (US$22/£12). Nok Air (tel. 05392-2183 or tel. 1318; www.nokair.com) offers similar deals (book well in advance via the Internet, or via ticketing agents listed on their sites), while SGA (tel. 02664-6099; www.sga.co.th) works in tandem with Nok Air to provide connections to Chiang Rai and Pai from Chiang Mai. One-Two-GO (tel. 05392-2159; www.fly12go.com) also has regular flights.
Chiang Mai International Airport (tel. 05327-0224; about 30 minutes from Old Town) has several banks for changing money, a post and overseas call office, and an information booth. Taxis from the airport are a flat 100B (US$2.85/£1.55) to town, a bit more for places outside of Chiang Mai proper. Buy a ticket from the taxi booth in the arrival hall, and then proceed to the taxi queue with your ticket.
By Train — Of the seven daily trains from Bangkok to Chiang Mai, the 8:30am Sprinter (11 hrs.; 611B/US$17.45/£9.40, second-class air-conditioned seat) is the quickest, but you sacrifice a whole day to travel and spend the entire trip in a seat. The other trains take between 13 and 15 hours, but for overnight trips, second-class sleeper berths are a good choice (881B/US$25/£14 upper berth, air-conditioned; 791B/US$23/£12 lower berth, air-conditioned). Private sleeper cabins are also available, but at 1,353B (US$39/£21), the cost is the same as flying.
Purchase tickets at Bangkok's Hua Lampong Railway Station (tel. 02223-7010 or 1690) up to 90 days in advance. For local train information in Chiang Mai, call tel. 05324-5363; for advance booking, call tel. 05324-2094. Reservations cannot be made over the phone, but you can call and check to see if space is available.
By Bus — Buses from Bangkok to Chiang Mai are many and varied: from rattle-trap, non-air-con numbers to fully reclining VIP buses. The trip takes about 10 hours. From Bangkok's Northern Bus Terminal close to the Mo Chit BTS (tel. 02936-2841), six daily, 24-seater VIP buses provide the most comfort, with larger seats that recline (755B/US$22/£12). There is also a frequent service between Chiang Mai and Mae Hong Son, Phitsanulok, and Chiang Rai.
Most buses arrive at the Arcade Bus Station (tel. 05324-2664) on Kaeo Nawarat Road, 3km (2 miles) northeast of the Thapae Gate; a few arrive at the Chang Puak station (tel. 05321-1586), north of the Chang Puak Gate on Chotana Road. Expect to pay 60B to 150B (US$1.70-US$4.30/95p-£2.30) for a tuk-tuk, and just 30B (85¢/45p) for a red pickup, songtaew, to the town center and your hotel.
Visitor Information
The TAT office is at 105/1 Chiang Mai-Lamphun Rd., 400m (1,312 ft.) south of the Nawarat Bridge on the east side of the Ping River (tel. 05324-8604). There are a couple of free magazines available at hotels and businesses — Guidelines Chiang Mai, Welcome to Chiang Mai and Chiang Rai, and What's on Chiang Mai — which contain maps and useful information. You can also find any of a number of detailed maps distributed free, chock-full of adverts for local shopping, dining, and events.
City Layout
The heart of Chiang Mai is the Old City, completely surrounded by a moat (restored in the 19th century) and scattered remains of the massive wall, laid out in a square aligned on the cardinal directions. Several of the original gates have been restored and serve as handy reference points, particularly Thapae Gate to the east. The most important temples are within the walls of the Old City.
All major streets radiate from the Old City. The main business and shopping area is the 1km (2/3-mile) stretch between the east side of the Old City and the Ping River. Here you will find the Night Bazaar, many shops, trekking agents, hotels, guesthouses, and restaurants — and some of the most picturesque backstreets in the area.
To the west of town and visible from anywhere in the city is the imposing wall of Doi Suthep Mountain, where, at its crest, you'll find the most regal of all Chiang Mai Buddhist compounds, Wat Phra That Doi Suthep, standing stalwart as if to give its blessing to the city below. The road leading to the temple takes you past a big mall, a strip of modern hotels, the zoo, and the university.
The superhighway circles the outskirts of the city and is connected by traffic-choked arteries emanating from the city center. If driving or riding a motorbike in Chiang Mai, the many one-way streets in and around town are confounding. The moat that surrounds the city has concentric circles of traffic: The outer ring runs clockwise, and the inner ring counterclockwise, with U-turn bridges between. The streets in and around the Night Bazaar are all one-way as well. This means that even if you know where you're going, you'll have to pull your share of U-turns.
Getting Around
By Bus — There are five routes in and around the city, each charging a fixed 10B (30¢/15p) fare. Services start at 6am, finish close to 10pm, and run approximately every 15 minutes. From Chang Puak Bus Station, there is frequent, inexpensive bus service to the nearby craft villages of Sankampaeng and Bo Sang, and to Lamphun.
By Songtaew — Songtaews (red pickup trucks) cover all routes. Fitted with two long bench seats, they are also known locally as seelor (four-wheels). They follow no specific route and have no fixed stopping points. Hail one going in your general direction and tell the driver your destination. If it fits in with the destinations of other passengers, you'll get a ride to your door for only 15B to 30B (43¢-86¢/20p-45p). Some drivers will ask exorbitant fees as if they are a taxi (especially when they're empty); let these guys just drive on. If you can deal with a bit of uncertainty along the confusing twist of roads, a songtaew is a great way to explore the city.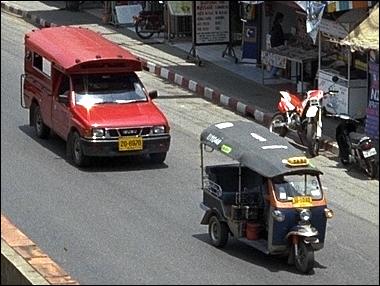 Songtaews can also take you up to the top of Doi Suthep Mountain for 40B (US$1.15/60p) and only 30B (85¢/45p) for the easier downhill return trip.
By Tuk-Tuk — The ubiquitous tuk-tuk (motorized three-wheeler) is the next best option to the songtaew for getting around Chiang Mai. Fares are negotiable — and you will have to bargain hard to get a good rate — but expect to pay at least 40B (US$1.15/60p) for any ride.
When talking prices, it is good to write it down on a scrap of paper, so there is no argument when you get there and the driver asks for 200B (US$5.70/£3.10) instead of the 20B (60¢/30p) you agreed on.
By Car — Avis has an office conveniently located at the airport (tel. 05320-1798; www.avisthailand.com). Avis self-drive rental rates for Chiang Mai are the same as they are elsewhere in Thailand, from 2,500B and up (US$71/£38) for a compact sedan. Budget has an office at the airport and offers comparable rates and services; contact them at tel. 05320-2871 (www.budget.co.th). Both companies offer comprehensive insurance and provide good maps — even a mini guidebook.
There are dozens of local car-rental companies with sedans for 1,200B to 1,800B (US$34-US$51/£18-£28) per day, and Suzuki Caribbeans (oft-derided as a death trap) for as low as 1,000B (US$28/£15) per day. Most travel agents will arrange a car and driver for about 1,600B (US$45/£25) per day.
By Motorcycle — Many guesthouses along the Ping River and shops around Chaiyaphum Road (north of Thapae Gate in the Old City) rent 100cc to 150cc motorcycles for about 200B (US$5.70/£3.10) per day (discounts for longer durations). Larger 250cc Hondas (as well as others) with good suspension are commonly available and are the best choice for any trips up-country because of their added power and large fuel tanks; they rent for about 700B (US$20/£11). Helmets are mandatory — even if locals tend to ignore this law, they may be able to wriggle out of arrest, but as a foreigner, you won't be let off lightly. Expect to leave your passport as security (don't leave any credit cards). Traffic congestion and confusing one-way streets make riding within the city dangerous, so if you are tempted, employ defensive driving techniques and take it slow.
By Bicycle — Cycling in the city is fun and practical, especially for getting around to the temples within the Old City. Avoid rush hour and take great care on the busy roads outside of the ancient walls. Bikes are available at any of the many guesthouses in or around the old city and go for about 30B (85¢/45p) per day.
Note: This information was accurate when it was published, but can change without notice. Please be sure to confirm all rates and details directly with the companies in question before planning your trip.
Read more: www.frommers.com
VIP Bus Time Table
VIP BUS

DEPARTURE

ARRIVE

FARE

Chiang Mai – Bangkok

07.00 A.M.

18.00 P.M.

650 THB

19.00 P.M.

05.30 A.M.

21.00 P.M.

06.00 P.M.
Remark : Departure from Chiang Mai : Arcade Bus Station
Arrive to Bangkok : Mor Chit Bus Station
…………………………………………………………………………………………………………..
Train Time Table Northern Line
Chiang Mai  -  Bangkok เชียงใหม่  -  กรุงเทพ
ขบวน

ออก

ถึง

Class / Fares

TRAIN

DEP.

ARR.

3rd.

2nd.

AC.2nd.

SL.2nd.

SL/AC.2nd.

SL/AC.1st

Rapid Train      102

06.45

21.10

311

471

–

–

–

–

Sprinter           12

08.45

20.25

–

–

691

–

–

–

Express           52

14.50

05.30

351

511

621

611/661

831/901

–

SP. EXP.          14

16.30

06.40

–

–

–

–

851/921

1333/1533

SP. EXP.          2

17.55

07.00

–

–

–

–

871/961

1333/1533

Sprinter           10

21.00

09.10

–

–

691

–

–

–
Remark: The above fares included 80 THB service charges
Contact : QUEEN BEE TRAVEL SERVICE  Tel. 053-275525